Welcome to Sts Peter and Paul
Welcome! Whether you are a visitor or new to our parish, interested in becoming Catholic, seeking to return to the practice of your faith, or an active member of our parish, we are pleased that you have come to our website and we will do all that we can to assist you.
If you cannot find the information that you are seeking on this website, contact us by:
Monday-Friday 8:30am-3:30pm
phone:  434.589.5201 (parish center office)
fax:  434.589.4463 (parish center office)
email: office @saintspeterpaul.org | admin@saintspeterpaul.org | karen.davidson@saintspeterpaul.org
and we will make every effort to help you. Please join us on the weekend for Mass Saturday 5pm and Sunday 11am. We would love to meet you in person. God bless you! We hope to see you soon.
Website Last Updated:  11/17/19

Weekly Scripture Readings
READINGS FOR THE WEEK OF NOVEMBER 17, 2019
Sunday:   Mal 3:19-20a/Ps 98:5-6, 7-8, 9 [cf. 9]/2 Thes 3:7-12/Lk 21:5-19
Monday:  1Mc 1:10-15, 41-43, 54-57, 62-63/Ps 119:53, 61, 134, 155, 158 [cf. 88]/Lk 18:35-43
Tuesday:  2 Mc 6:18-31/Ps 3:2-3, 4-5, 6-7 [6b]/Lk 19:1-10
Wednesday:  2 Mc 7:1, 20-31/Ps 17:1bcd, 5-6, 8b and 15 [15b]/Lk 19:11-28
Thursday:  1 Mc 2:15-29/Ps 50:1b-2, 5-6, 14-15 [23b]/Lk 19:41-44
Friday:   1 Mc 4:36-37, 52-59/1 Chrn 29:10bcd, 11abc, 11d-12a, 12bcd [13b]/Lk 19:45-48
Saturday: 1  Mc 6:1-13/Ps 9:2-3, 4 and 6, 16 and 19 [cf. 16a]/Lk 20:27-40
Next Sunday:  2 Sm 5:1-3/Ps 122:1-2, 3-4, 4-5 [cf. 1]/Col 1:12-20/Lk 23:35-43
Weekly Observances
OBSERVANCES FOR THE WEEK OF NOVEMBER 17, 2019

Sunday:   33rd Sunday in Ordinary Time
Monday:  The Dedica3on of the Basilicas of Sts. Peter and Paul, Apostles; St. Rose Philippine Duchesne, Virgin
Thursday:  The Presenta3on of the Blessed Virgin Mary
Friday:   St. Cecilia, Virgin & Martyr
Saturday:  St. Clement I, Pope & Martyr; St. Columban, Abbot; Bl. Miguel Agus=n Pro, Priest & Martyr
Next Sunday:  Our Lord Jesus Christ, King of the Universe
2019 Christmas and New Years Schedule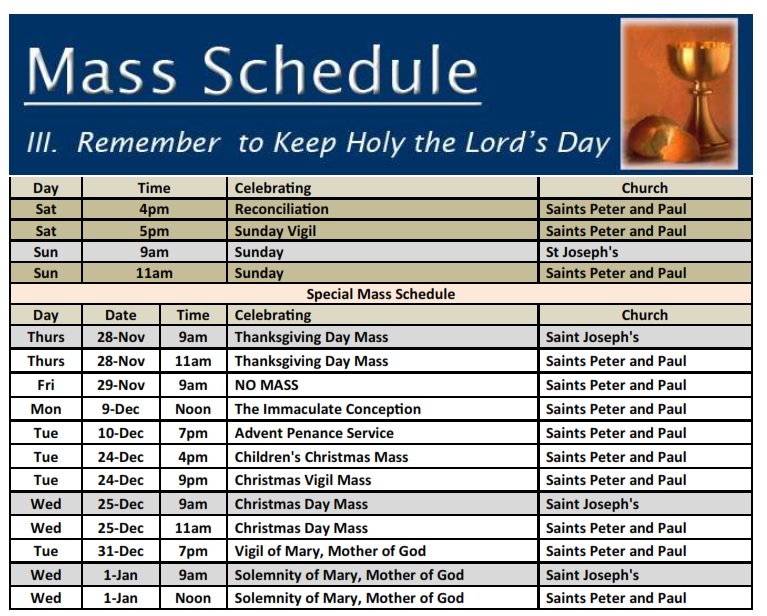 Latest News and Information
Church Calendar