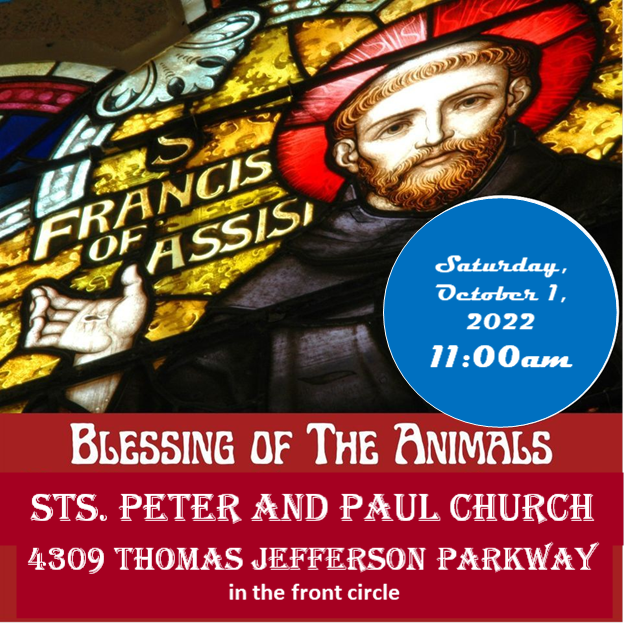 Blessing of The Animals
---
Please bring your pet on a leash or in a carrier. We don't want them to get spooked and run off. If you can't bring your pet you can bring a picture of your pet.
News Blast & Bulletin
News Blast & Bulletin 10/02/2022
September 30, 2022
27th Sunday in OT
Greetings!
Your bulletin: https://saintspeterpaulpalmyra.org/october-2nd-2022/
Here are the highlights:
Tomorrow, Saturday, October 1st at 11am Father will provide a blessing for your animals. Please bring them on leashes or in kennels.
OPEN POSITION – Sts. Peter and Paul is in need of a Coordinator of Religious Education & Youth Ministry. (p. 6)
40 Days for Life kicked off on September 28th. Our prayer vigil day and time is Wednesdays at 10am. Our last day is November 2nd. If you are interested in joining the crew, they meet at Jefferson Pharmacy parking lot to carpool and leave no later than 9:15am. If you'd like to join but drive yourself, there is a parking lot across the street from Planned Parenthood. A word of caution, some folks are really angry, but we must remain non-confrontational and focus on prayer. God bless!
New USHERS are needed at both Masses. This is an excellent way to serve. Contact Frank Pilk if you are interested (571.239.3373).
"Exploring the Eucharist" Exhibit is open! It will continue through November in the Invitation Room (formerly St. Raphael's room). Please stop in and deepen your love for Jesus in the Eucharist. (p.8)
The CRAFTERS are back, hard at work, creating great trinkets and treasures for the November Craft Fair. All are invited to join the crew and put your creativity to work. (p. 9)
Coming in October:
A special mass is planned for all those who love to meet with Jesus in our Adoration Chapel. Whether you are signed up for a weekly adoration time slot, drop by at various times on your own, or are simply interested in participating in adoration at Saints Peter & Paul, we invite you to mass at 10 AM on Saturday, October 29th, followed by a light breakfast, time of reflection, and Q&A. This is the Year of the Eucharist at SPP and it is our prayer that all parishioners encounter the real presence of Christ more and more. Please join us for this special time!
Coming in November:
Craft Fair – Nov. 12th from 8am – 2pm. Volunteers are needed to help set up beginning on Sunday, November 6th. Contact Cynthia Aycock (434.996.6065) if you're able to help.
24 hours of Adoration – November 18th – 19th, 2022 from 8am to 8am. We are looking for 2 volunteers for each hour (that's 48 people) starting at 8am on Friday till 8am on Saturday. Please contact Denise Minor (dminor92@gmail.com) if you are able to fill any one of the hours. (p. 7)
Nov. 17-20 – A parish mission to end our celebration of the Year of the Eucharist. We will have a guest speaker over several days, 24-hour Adoration (if we have enough volunteers), Benediction, Morning Prayers, opportunity for Confession, and fellowship. (p. 8)
If you are in either building after normal business hours, please, please, please, be sure to:

NOT prop doors open (we cannot afford to heat/cool the outside).
turn lights/ceiling fans off (even if you didn't turn them on)
turn off/unplug the portable heater/fan (chapel users only)
turn around and make sure the outermost doors have completely closed behind you. (Yank on the door to make sure it doesn't open.) **This continues to be a problem.
Thank you for your assistance in this matter.
---
CCD classes have resumed. See Celeste Shapiola if you still need to register your child.
The next MASS IN SPANISH is this Sunday, October 2nd at 2pm.
Peace-
Karen Davidson