Saint Joseph's Shrine of St. Katharine Drexel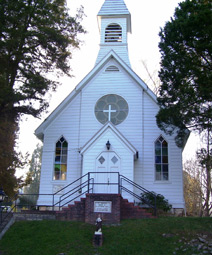 About St Katherine Drexel
Saint Katharine Drexel, Religious (Feast Day-March 3) Born in 1858, into a prominent Philadelphia family, Katharine became imbued with love for God and neighbor. She took an avid interest in the material and spiritual well-being of black and native Americans. She began by donating money but soon concluded that more was needed – the lacking ingredient was people. Katharine founded the Sisters of the Blessed Sacrament for Black and Native American peoples, whose members would work for the betterment of those they were called to serve. From the age of 33 until her death in 1955, she dedicated her life and a fortune of 20 million dollars to this work. In 1894, Mother Drexel took part in opening the first mission school for Indians, in Santa Fe, New Mexico. Other schools quickly followed – for Native Americans west of the Mississippi River, and for the blacks in the southern part of the United States. In 1915 she also founded Xavier University in New Orleans. At her death there were more than 500 Sisters teaching in 63 schools throughout the country. Katharine was beatified by Pope John Paul II on November 20, 1988.
Because of her lifelong dedication to her faith and her selfless service to the oppressed, Pope John Paul II canonized her on October 1, 2000 to become only the second recognized American-born saint.
Staff Directory
Pastor:  Rev. Gerald Francis Musuubire
Permenant Deacon:  Rev. Mr. Robert Allen
Priest Welcome Message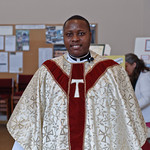 Let me take this golden opportunity to welcome you to Saint Joseph's Shrine of St. Katharine Drexel webpage. Our Parish is located on Washington & Cameron Sts in Columbia VA. Our members strive to be faithful to the mission of Christ through its liturgical, educational and social service ministries.  I want to encourage visitors to consider joining us because every new parishioner adds richness to our faith community which allows us to more fully reflect the Body of Christ in today's society.
Yours in Christ
Fr. Gerald
Mass Schedule / Sacrament of Reconciliation / Devotions
Weekend:  Sunday 9am
Weekday:  Thursdays 9am
Reconciliation:  Saturday 4pm
Devotions:  Last Sunday of Month 7:30am – 8:30am
Bible Study
We are part of the "Saved by the Book" Scripture Study that takes place Mondays at 7pm at Sts. Peter in Paul.  Saved by the Book Scripture Study 
Contact Us
Pat Morris (Office until 12pm on Thursday After 9am Mass):  434-842-3970
Location
We are located at:  Washington & Cameron Sts. Columbia, VA 23038