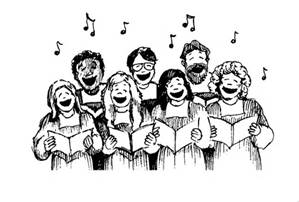 Join the Music Ministry
AM I GOOD ENOUGH TO SING OR PLAY AN INSTRUMENT IN THE CHOIR?
If you can answer yes to any of the following, you may qualify.
1. Can you carry a tune?
2. Do you love to sing?
3. Can you read music (even a little)?
4. Can you play a musical instrument ? (Youth or Adult)
If you answer YES to any of the above, you're a great candidate for our choirs or band group.
Sts Peter and Paul's Catholic Church has a very dedicated Saturday and Sunday and Contemporary Choir plus a wonderful Youth-Adult band.
If you are interested in any oft the above, and would like to be a part of a very rewarding ministry that sings and plays their praises to God, please contact:
Sid D'Amico— the Saturday/Sunday Choir
or band group: (434) 996-4325
siddlakem@embarqmail.com
Daniel and Jenn White – Contemporary Choir
and instrumental group at:
white.daniel0284@yahoo